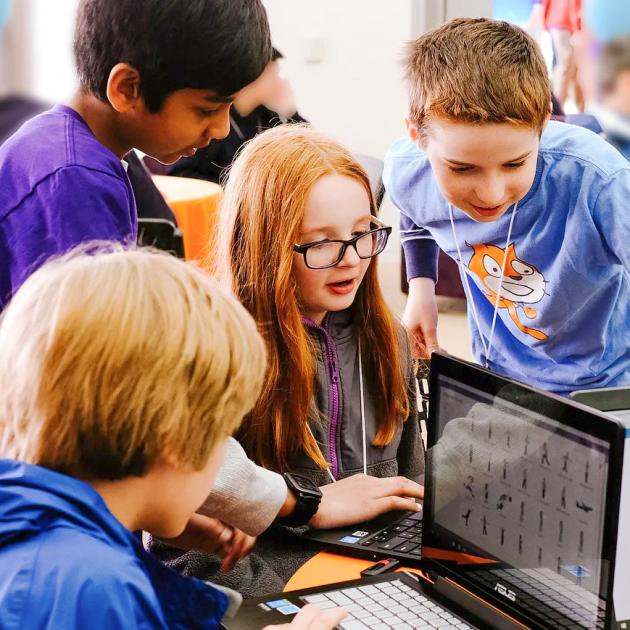 Scratch 100 with Koala Kode
This is an in-person event
May 16, 2023
4:00 pm to 5:00 pm
Collaboratory
Registration is closed < Back to all events
Event overview
May 16, 2023
4:00 pm to 5:00 pm
Join Koala Kode for an introduction to coding for kids! This workshop takes place over six Tuesdays from May 16 to June 20 and is for children in grades 1 – 4.
Do you like drawing and animations? Do you want to make your art come to life? In this new and redesigned course, students will turn their art digital using Scratch, a block based coding language for beginner coders. Students will learn foundational coding skills and apply them to make their artwork shine through digital art and animation projects.
Students who have already taken Scratch 100 and would like to continue building their skills will find fresh curriculum in this course.
City Library is partnering with Koala Kode to offer this program. Koala Kode was founded in 2022 by local teens Nicole Zhang and Daniel Kim to provide free coding education to kids and teens in Metro Vancouver. Nicole has extensive experience teaching computer science at Under the GUI Academy and Thinkland.AI. Daniel works at Steamoji as a curriculum developer and learning facilitator and has achieved high awards in math and computer science contests.
Please only register once for this program. You will automatically be registered for all six sessions.
Children in grades 1 – 2 must be accompanied by a parent or caregiver.
Caregivers of children younger than 10 must remain in the library during the program.
Please register under the name of the parent/caregiver who will be present.
Please submit one registration per child.
Registration is closed
Other Dates
Tuesday, June 6, 2023 - 4:00 pm
Tuesday, June 13, 2023 - 4:00 pm