Accessibility
City Library supports community members who need help accessing library services and materials. Librarians can assist you with finding materials in alternative formats, such as audiobooks or large print books, or help with basic tech troubleshooting like setting up email on your smartphone or tablet.
We can help you:
Find or access a large print book
Use Zoom, Skype or other video conferencing software
Set up your email on a smartphone or tablet
Download ebooks and audiobooks
Manage and sort your digital photos
Access social media like Facebook, Twitter or YouTube
Home delivery services
The library offers free home delivery of library materials to residents of the City of North Vancouver who are unable to come to the library due to a mobility challenge or a visual disability.
A mobility challenge, temporary or permanent, may be due to an illness, injury or disability that prevents you from visiting the library in-person.
Deliveries are made every two weeks on Wednesdays, between 1:30 – 4:30 p.m.
Wheelchair access
The library's main entrance is wheelchair accessible.
Wheelchair access vehicles such as the HandyDART can drop customers off from the 14th Street access via Chesterfield, or by the shipping entrance in the back alley behind the shops on Lonsdale.
Public washrooms on the second and third floor can accommodate wheelchairs. There is also a limited access washroom on the first floor that wheelchair customers can use by request at the Welcome Desk.
Most public computers are set on counters that are within wheelchair height standards.
In emergencies where elevators cannot be used, there is an evacuation chair that staff can use to move wheelchair customers down the stairs.
Parking
Underground pay parking is accessible via 14th Street from Chesterfield Avenue. If you're dropping off books or grabbing a quick coffee at the café, there are four 15-minute free spots available at the east end of the parkade on Level 1. Additional free street parking is located around the library.
Pay parking is $1 per hour, plus a 25¢ fee. You can pay for parking at one of the machines or via the Passport Parking app. The library parkade zone is 70501. Vehicles left in the parkade after hours risk being locked in or towed at the owner's expense.
Parking and parking guidelines are managed by the City of North Vancouver. If you have questions about parking in the library parkade, please call 604-983-7305.
Parkade hours
Monday to Thursday
6 am - 9:30 pm
Friday to Sunday
9 am - 6 pm
Accessibility kit
Borrow an accessibility kit at the third floor info desk to improve your experience on a public computer.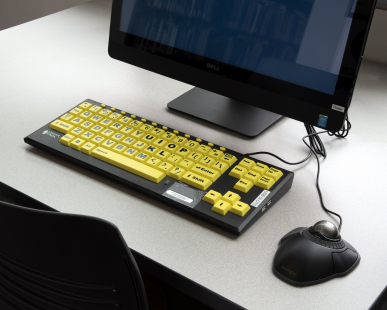 Accessible keyboard
Featured in our accessibility kit, an oversized, high-contrast keyboard and a large trackball mouse are available for use in the library. These items are designed for people with visual and mobility challenges to better use one of the library's public computers.
Large print books
The library has a collection of large print books in different genres like mysteries and westerns. This collection is regularly updated to provide the latest and most popular titles.
Talking books
Talking books, our accessible audiobook collection, is available for people with visual, physical or cognitive disabilities.
In addition to our own collection, we can also arrange to borrow material from CELA, NNELS and from libraries across the Lower Mainland.
DAISY players
A DAISY (Digital Accessible Information System) player has large, tactile buttons for playing MP3s and commercial audio CDs. The library has a selection of these players available.
NNELS books
The National Network for Equitable Library Service (NNELS) provides access to more than 50,000 downloadable items for people with print disabilities. Items are available in English and French.
Books are available in multiple formats, including:
Human narrated MP3 and Daisy audiobooks
EPUB
DOC
PDF
BRF
Contact us for additional information about our accessible collections
Website accessibility
City Library's website is designed to meet the diverse needs of our customers and site visitors.
The website is designed to WCAG 2.0 and ARIA guidelines to ensure website accessibility.
Site visitors can change website settings for things like:
Contrast
Text size
Text spacing
Cursor visibility
Line height
And much more...
Contact us if you need one-on-one tech help or visit one of the information desks in the library.