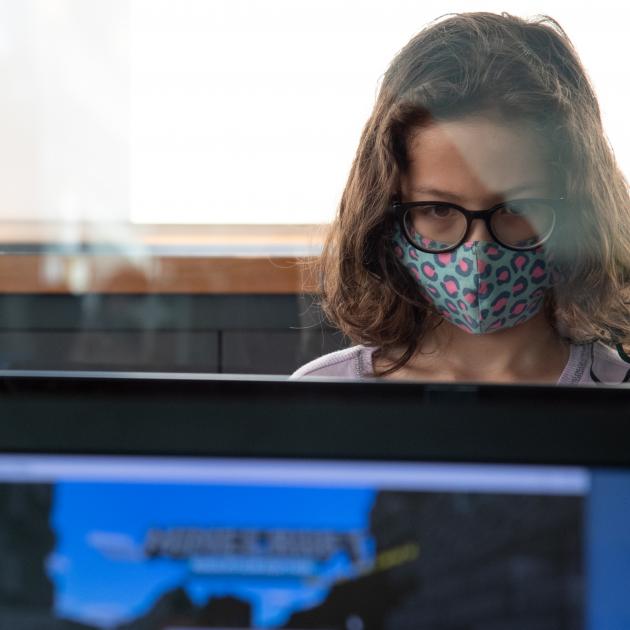 Event overview
October 16, 2022
1:30 pm to 3:00 pm
Minecraft has been consistently well received for more than 10 years and has many educational applications, on top of just being fun to play! Whether you are new to Minecraft or have been playing for years, you can join us to build or battle.
Check in at the third floor desk before entering the Collaboratory. Children younger than 10 must be actively supervised by an adult caregiver, who must also register for the program.
Open computing notice
Computers and software will be publicly available for patrons to use and work independently. Sessions will have topics and themes to create a space for shared learning and creation. However, staff will not actively manage the space or what projects people are working on. Open computing is not designated as a study space or for media engagement or browsing (watching YouTube or reading on the internet).
Troubleshooting notice
Open computing is for independent learning. All technical use of the software will be the patron's responsibility. Staff can help patrons find and access learning resources.
There are 12 spots left out of 12
REGISTER
Other Dates
Sunday, October 2, 2022 - 1:30 pm
Sunday, October 23, 2022 - 1:30 pm
Sunday, October 30, 2022 - 1:30 pm
Sunday, November 6, 2022 - 1:30 pm
Sunday, November 13, 2022 - 1:30 pm
Sunday, November 20, 2022 - 1:30 pm
Sunday, November 27, 2022 - 1:30 pm
Sunday, December 4, 2022 - 1:30 pm